ABOUT US

Reuben and Kim lead Real TV. Their unique combination brings together the art of authentic, video storytelling with the psychology behind how you inspire and motivate people.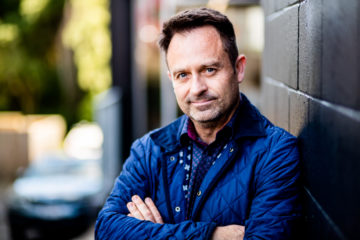 Reuben Pillsbury
I have a personal mission – to help inspire and educate people through visual storytelling. I've directed and produced prime-time TV shows and documentaries for 15 years with work screening in over 100 countries.
My top moments would be winning Best Reality TV Series at the NZ Screen and TV awards, and being bowled over by a lion whilst filming The Lion Man. My shows have been finalists at the awards several times, and over the years I've judged various award categories. I've served on the board of the NZ Screen Directors Guild where I ate a lot of cheese and crackers. As a Post Grad I studied fine art at the New York Studio School and I received a B.A. (first class), from Bard College.
I started Real TV in 2006 with Kim Goodhart (co-founder) in order to help people and business' connect and communicate with their people, their customers, their exec team and their board.
Kim Goodhart
While studying for an MA (Hons) in Psychology at the University of Edinburgh I became fascinated with the human mind, what motivates people to rise above their situation, achieve their dreams and create a fun and fulfilling life.
Research work on documentaries took me into the world of film and television. I became interested in the hero story and studied screenwriting with UCLA. What intrigued me about the creation of a hero is how a dream or goal is sparked in an individual, what motivates them to make their dream a reality, inspires others to join them on their quest and then drives them through adversity to achieve that goal.
In 2006 I combined my passion for how to inspire and motivate people with Reuben's (co-founder) skill for emotive, powerful story-telling and launched Real TV with the purpose of using real stories to inspire people.







"I had a great afternoon filming with Real TV. The team were brilliant. Friendly, professional and obviously very experienced at their job. The final video is creative, inspiring and informative. A great result."
Sir Stephen Tindall
Founder, The Warehouse
Want To Know More?
We're happy to tell you more about the company and answer your questions.
We understand that each client is unique, and may need a different aspect of our expertise.
That's why all our solutions are tailor made, and they start with a no-obligation friendly chat.