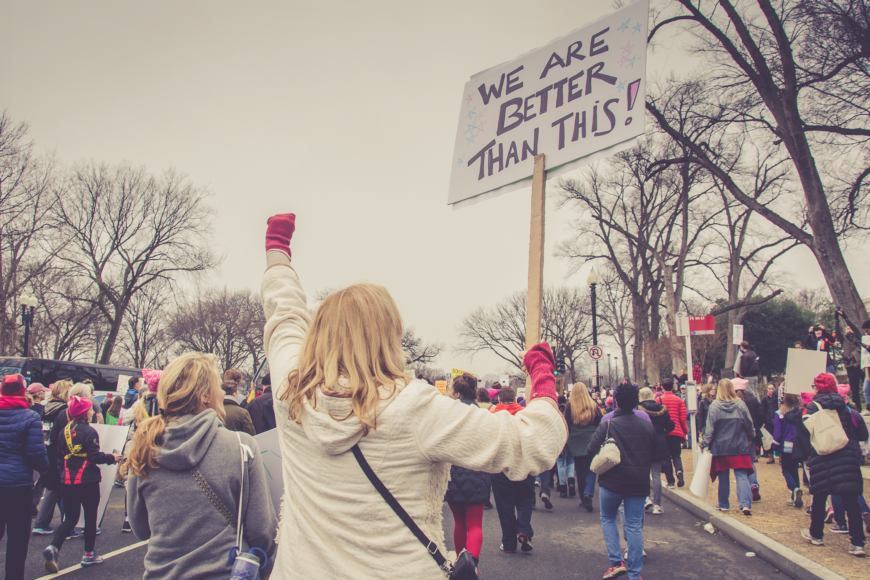 Tired of waiting for the #MeToo movement to breach New Zealand's shores, broadcast radio personality Alison Mau launched 'an investigation into sexual harassment in New Zealand workplaces' early March, but does Ms Mau have the credibility, or will she be dismissed as 'just a vigilante?'
By and large, the deafening silence continued after Ms Mau's announcement. And then, former Prime Minister Helen Clark intimated that we must avoid sweeping sexual harassment under the carpet here in New Zealand.
Speaking under the headline #MeToo movement exposing 'very unpleasant side of New Zealand' – Helen Clark, she called on the issue to be dealt with, not ignored.
We've also seen some women talk up about sexual harassment in the law firm environment, in particular, Russell McVeigh has been in the firing line.. Auckland University of Technology cancelled a 'recruiting visit' from the law firm, which itself has appointed an independent review.
Victoria University meanwhile has been outed as having known about the allegations of sexual harassment against the law firm, and says it confronted the firm, but admits it never stopped students clerking there. You have to wonder, what young law student would turn down a role at a prestigious law firm, assuming they even knew about the allegations? Shouldn't the university have done a lot more?
This raises a bigger question. Is Russell McVeagh the Harvey Weinstein of New Zealand? And are some of our universities the equivalent of 'the Hollywood that knew'? As Quentin Tarantino said: "We allowed it to exist because that's the way it was".
Like Hollywood, young women entering the legal sector can have their careers stall or they can go stellar, depending on the good graces of a select few patriarchs – mostly senior male partners. The legal profession isn't the only one that has this kind of structure. Accounting firms come to mind too.
You could argue that the structure of most business organisations lend themselves to the abuse of power on a Weinstein-like scale, but that wouldn't be accurate. Most organisations are hierarchical, not patriarchal. Your average organisation does not have a 'founding' level of upper echelon management that barely ever changes and accrues the kind of power a senior partner holds. Partners themselves are institutions like Weinstein was in his business, and we all know that power corrupts.
Just how rotten is the law sector in New Zealand or, for that matter, accounting and other partnership based 'establishments?' Will we find rot? Or a house in order? Or will the deafening silence continue?
Alison Mau, as well-meaning as she may be, does not have the leadership credibility to inspire change. She's a journalist. Her job is to call out those that need calling out, but it's unlikely business leaders here will take her seriously unless she does what the New York Times did, and begins a lengthy exposé.
Even then, she'll struggle unless the victims – particularly those women who now have influence – come forward and speak publicly.
People, society in general and particularly business leaders want to avoid scandal at all costs. There's too much blood and angst, and it sticks around for decades. So how do we coax New Zealand's business leaders to step up and deal with this issue when they'd really just have it go away?
I said earlier (you can read about it here) that I believe the gender equality equivalent of the Rainbow Tick might work. It provides a positive mechanism for companies, CEOs and other leaders to support change – and thus lead change – with perhaps a little less pain than Hollywood is experiencing.
As somebody who works with CEO's and other business leaders in helping organisations to transform and change, I know from experience that change will not happen unless people see the need for change and they are ready for change – a Rainbow Tick equivalent for gender equality can help start the conversation.
A bloodless transition may not be ideal. Perhaps the only healing that can be achieved is through legal action or the New Zealand equivalent of South Africa's Truth and Reconciliation Commission. A Rainbow Tick-like scheme, however, is a mechanism for achieving change and safer workplaces and that, surely, is preferable to this entire issue being swept under the carpet – as Helen Clark, no doubt fears it will be.