Success is over-rated. Think about it. After every big event, once the crowds and athletes have departed, what remains? Empty streets, litter, the sound of the wind and the creak of the abandoned winner's podium.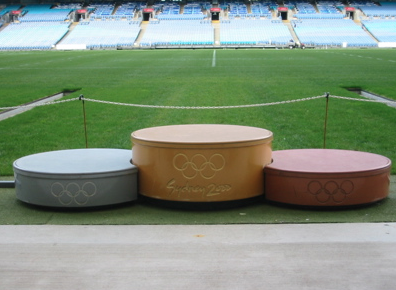 Ask any Olympic gold medallist about that 'lost' feeling they get when the shouting's all over. Think about the sense of regret you may feel when a good story ends. Hitting your sales budgets does not make you a great business. A happy ending does not in itself make a story good.
Staff need to constantly strive for wins
These outcomes are alright for stories and the Olympic Games. For all one-off-events that must come to an end. But your business is not a one-off event. One win must follow another, on and on, forever. So how do you keep it going? How do you keep your staff striving for win after win without getting bored? What do you do about that sense of déjà vu which, whether it follows a win or a loss, can incite feelings of futility?
In our previous two blogs "What Hollywood can teach business about culture, purpose and success" and "How do banks, retailers and insurance companies use storytelling to build success?" we discussed how purposeful storytelling could help you achieve successful transformation or cultural change within your organisation (for more on storytelling to build business momentum download our free eGuide here). But once you've achieved your initial objectives, how do you keep momentum?
The Dramatic Question
In the blog "How do banks, retailers and insurance companies use storytelling to build success?" we used Dunkirk and the rescue of more than 300 000 soldiers as an analogy to explain the concept of the 'inciting incident' (the battle of Dunkirk) and the 'dramatic question' (who will rescue the soldiers?) as two devices that are useful for achieving business objectives, in the same way as they achieve story goals.
If the heroes of the story were able to answer the dramatic question quickly, then that would be it. The soldiers make it home safely. The end. And yet, this is exactly the dilemma that confronts companies all the time, at that moment they meet their targets.
But unlike a story, there is no ending for your business. There's only onward and upward, or a slow drift in the opposite direction.
The answer? To keep your customers, your staff and other stakeholders engaged and motivated, you need to uncover more dramatic questions.
Inciting Incidents
Fortunately, there's also no end to inciting incidents when you're in business – for example, head office whims, digital disruption, economic downturns, new inventions, changing social attitudes, fickle politicians.
For every inciting incident, there is a dramatic question. Sometimes the inciting incident is in your face, other times it's sneakier, more subtle or a vague sense of disquiet.
Some of these dramatic questions may be:
'How do we work within the restrictions set by head office?'
'What will we do about emerging technologies?'
'How do we deal with the fact that we make junk food when what we really want is to teach people to have healthier eating habits?'
'How do we respond to our competitor's new invention?'
It's these challenges, that keeps the story interesting and the business striving.
Employees need to be a part of the Story
Importantly, if you want to keep your employees engaged you need to include them in your story. They need to be an active part of it. They need to be the hero, the audience, the stakeholders in your story. Once your staff suddenly find themselves abandoned on the beaches and no rescue in sight, they get motivated pretty quickly.
Tip: #1. List your inciting incidents and develop an understanding of the dramatic question in your business.
Tip: #2 Listen to your staff. Go to them for solutions. Let your staff try things, make mistakes and get back up and try again.
Tip #3: Let your customers into what you are trying to achieve, and then they will cheer for you, cry for you and support you – but they need to be part of the story; actively enrolled.
Do that, and you'll keep your employees and your customers totally 'hooked' on the story you're telling.
If you want to know more about storytelling, I highly recommend these two books (the bibles of storytellers):
'Story' by Robert McKee; and
'Screenplay' by Syd Field.
To read more on how purposeful storytelling can help you achieve successful transformation or cultural change within your organisation, download the eGuide "Why 70% of Organisational Transformations Fail and How to Fix the Problem" here.