Take it from an Old Rugbeian, this is how Rugby School can help you become a visionary leader
Last week as an Old Rugbeian – I attended Rugby School in the UK, to which the game of rugby owes its name – I was asked to take part in a celebration of Rugby School's 450th year by 'passing a Rugby ball' that is being passed around the world by Old Rugbeians and a variety of sporting celebrities including Jonny Wilkinson and Sir Ben Ainslie. Putting aside the 'Global Pass' – imagine that, 450 years! Rugby School is effectively a business that has been around for 450 years.
Not having had much to do with the school since I left, this actually got me thinking. What are the elements that surround an establishment that lasts 450 years and how is it still steaming full speed ahead?
I've always felt a little embarrassed about the associations with private boarding schools and that I was given such a privileged start in life. That my parents sacrificed so much to give me the education they did. I know they chose it because they believed unequivocally that the best thing they could give their children was an education that would develop our minds, teach us to ask questions, look for answers and that we would use those skills to contribute.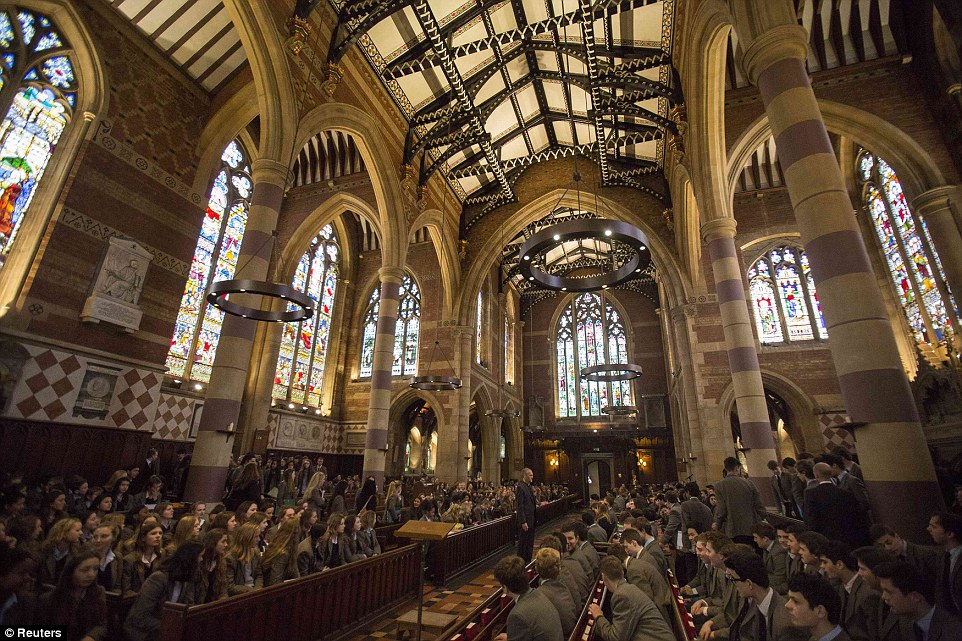 Are values the reason for Rugby School's longevity and success?
Are those values what the school was about? Is that why it has lasted?
As a business, does Rugby School actually provide real, tangible benefits to their 'customers' and the world at large? Or is it really just about the old school boy network, as I so often hear? Can a business survive for 450 years if it is simply about making profit and networking with the elite?
So, for the first time in my life I decided to explore some of its history. What I discovered I found fascinating.
Rugby School was established in 1567 by Lawrence Sheriff and is one of the oldest independent schools in Britain. To be honest its first 100 years seem pretty fraught with a variety of disputes so there's hope for some of us. Clearly strong forces don't always get going right from the start, but it started to get on track from about 1667 when the structure of the school appears to have stabilised. However, it clearly wasn't always smooth sailing from here.
"Before the 18th century was out, the School saw its Great Rebellion. Across the Close from School House stands a Bronze Age burial mound formerly known as the Island, surrounded until 1847 by a six-metre wide moat. It was here in 1797 that certain pupils, having blown the door off the Head Master's classroom and burned their books on the Close, retreated and drew up the drawbridge behind them. Only when the local militia closed in with pikes and muskets did they yield. The Riot Act was read and some boys were expelled – some later to become renowned military leaders."
I can't find out why the boys rebelled with such force but it's something of a dramatic story.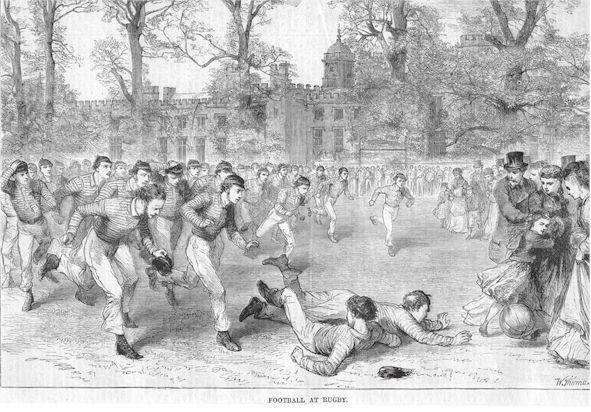 The game of rugby is actually a story about change
However, there was also good news, most relevant to New Zealanders. In 1823, a local lad William Webb Ellis, was attributed with the following act, "with a fine disregard for the rules of football, took the ball in his arms and ran with it, originating the game of rugby football".
While this isn't exactly based on fact, it was Rugby school that first established the official rules to the game and the game owes its name to Rugby's version of Football. Rugby Football.
What I love about this story is that no one seems to have had an issue with Webb Ellis' "fine disregard for the rules". Rather they seem to have accepted the new rules, accommodated them into their rule book and moved on.
How readily do we accept change and take a good idea and run with it? How often do our leaders allow their people to change the rules of the game, leading to innovation? Or do we hold them back and say, "No, that's not how it's done". Without this acceptance for a change in the way the game was played, New Zealand might be playing soccer and not Rugby.
It takes personal vision to inspire change
However, the school really came into its own when Dr. Thomas Arnold became the headmaster (1828-1842) Arnold was an idealist, but he was also very practical. What intrigues me about him is that he was following the principles of business that we talk about today.
He had a vision that he wanted to achieve, which was to create the 'Christian Gentleman.' He upheld three principles/values, by which he expected things to be done. They were 'religious and moral', 'gentlemanly conduct' and 'academic performance'. What he knew was that education was about transforming lives. He was guided by purpose, and not profit.
In Stephen's Fry's role of Thomas Arnold in the movie adaptation of, 'Tom Browns School Days,' he addresses the longest serving masters of the school (the equivalent of his leadership team) and tells them of his vision to turn the boys from their gambling, bullying, racing horses and alcohol brewing into 'Christian Gentleman'.
Confronting the masters, he makes it clear, "the Rugby Way will have to change" and declares that "it will no longer be a world where only the strongest and cruellest survive". One of the master's objects, "but they are the riotous natives and we are the occupying force!" To which he replies, "little is taught by dispute but everything is taught by sympathy and love".
It may be nearly 200 years later but has anything changed? How many leaders have a true vision? How many see their people as riotous natives? How many leaders don't think it is their responsibility to nurture the development of their people? To strive for something worthwhile? And how many realise that the only way to achieve these results is though sympathy and love?
Rugby and the modern Olympic Games share common origins
"Much of what we know about Arnold's ideas stem from Thomas Hughes' version of them in his book, 'Tom Brown's School Days' – out of which Arnold became something of a legend. Pierre de Coubertin first encountered the book when he was twelve years old. Inspired by what he had read, de Coubertin visited Rugby School several times during the 1880s and concluded that "organised sport could be used to raise the aspirations and improve the behaviour of young people". This idea fuelled his vision for universal amateur athletics which culminated, in 1896, in the first modern Olympic Games in Athens.
As one world expert on Olympic history says, "Thomas Arnold was the single most important influence on the life and thought of Pierre de Coubertin".
As such, it's possible to say that this great man's ideas lay the foundation for the modern Olympic Games. I haven't read enough on the subject, but it would seem that Thomas Arnold's pursuit of the 'Christian Gentleman' led him to realise that organised sport was a critical part of that development and, as such, it was treated with utmost importance. He didn't just focus on academic results. He believed in the creation of a complete man and as a result his focus on organised sport led others to see the benefits that resulted in the Olympic Games.
"He also treated his senior boys as gentlemen, increasing their power and duties so that they shared responsibility for moral tone and discipline with him."
His aim was to create men of power and character and not just intellect. Men that would go out into the world and change it for the better. And it is a system that most schools follow today. What is critical about this too, is that he didn't just tell people what to do. He listened to them and he included them in the change.
As far as I can tell the man had a dream and he knew how he wanted to achieve it, which created the bases for a very strong framework. People adapted to change. They accepted new ideas when they aligned with the core vision. He listened to his people and included them in the decision making, and they often led the way in new ideas.
The first boys public school to hire a woman
In 1888, Rugby School was the first English Boys Public school to appoint a female teacher.
And as early as 1976 they started to take on a few brave girls. By 1994, when I arrived at the school, I was one of 30 odd girls to be introduced to a year of over 100 boys. And in 2017, it's on its way to becoming the leading co-educational boarding school in the UK with a 50/50 mix.
A far cry from where it started in 1567 and yet the vision of the school is still guided by Thomas Arnold. On the home page of the Rugby School website it reads. "If we have seen further, it is by standing on the shoulders of Thomas Arnold".
Nearly 200 years ago he knew that education was about transforming lives. And the school has since sought to hold onto the conviction that education is much more than the sum of educational results. Could the secret to the school's success all stem from one man who changed the course of the school with a vision that was about something more than just profit. And nearly 200 years later, his legacy lives on through the stories told about his endeavours.
Is this the secret to a successful business?
I would like to add that Rugby School is a very successful business, the result of following purpose over profit; being guided by key values, adapting to change along the way, but always staying true to the vision?
Vision is at the root of strong growth
What I have never known until today is that my parents core vision and values for their children aligned with Thomas Arnold's vision for the school. It's why my parents invested an enormous amount of money into the school. It is the vision I uphold for my own children today and now –a terrifying and daunting thought – I might need to find the strength to live up to it!
"To be a woman of strength and character with the intellectual capability to make the world a better place."
That vision is one of the reason's that we founded Real-TV, a unique video production company in the business of helping business leaders and CEOs bring about change and transformation.
We call ourselves an Inspiration and Communications Agency, because we use real stories to inspire your people through video, consulting and workshops – but vision and the conviction to lead the change?
Well, that starts with you.
I've written a short e-guide on 'Vision' for companies. 🙂 Click here to download: "How to inspire your employees and get them excited by your company vision".